Eco-friendly

Laundry Detergent With Geranium & Lavender Essential Oil – 500ml
A blend of environment-friendly surfactants and an organic 5-enzyme formula, this gentle but effective recipe is sure to give you the best wash. Fighting tough stains and dirt, your whites stay white and colours stay bright. Lavender and Geranium essential oils are known for their anti-fungal properties and skin benefits. The sweet uplifting scent of Geranium promotes a sense of relaxation and enhances the feeling of well being.
Customer Reviews
Ashwini S.

India
I recommend this product
19/03/2021
The clothes smell n feel divine
Thanks to a reco I read on Instagram... I went and brought the fabric wash from This unknown brand purecult. Purely because it claimed to be so much less harmful than the regular detergents. Must say I was pleasantly surprised. Loved the product and the fragrance on the clothes is simply amazing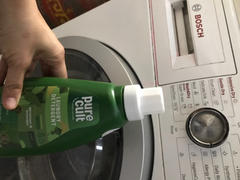 PRASATH R.

India
I recommend this product
Soumyasis G.

India
I recommend this product
Yuvaraj K.

India
27/02/2021
Need to be more sustainable
All products I've bought so far are beyond expectations. But kindly start providing refills like other brands. I'm a person who likes to order in bulk but hate a lot of plastics accumulating. Please find a solution
Rajendra M.

India
17/02/2021
Detergent, vegetable cleaner review
Good. I found it cleans better than other detergents in market. But is bit costly also.