Eco-friendly

Fabric Conditioner With Geranium & Lavender Essential Oil – 500ml
This natural fabric softener and conditioner will leave your clothes soft and silky. A refreshing and calming blend of Geranium and Lavender essential oil will leave your clothes naturally and mildly fragranced. Lavender and Geranium essential oils are known for their anti-fungal properties and skin benefits. The sweet uplifting scent of Geranium promotes a sense of relaxation and enhances the feeling of well being.
Customer Reviews
Shalini M.

India
I recommend this product
11/01/2021
Very happy with the purchase - Liquid detergent and fabric conditioner
The liquid laundry detergent along with the fabric conditioner is a must have combo at home for fresh smelling clothes . I chose purecult mainly because it's ecofriendly ingredients. Would be more happy if the packaging is also ecofriendly and easily biodegradable .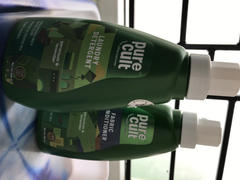 Anju J.

India
I recommend this product
10/01/2021
Happy !!
The product is good as well as the packaging! Just feel that the quantity should be more !
Saloni G.

India
I recommend this product
02/01/2021
Love the product
Amazing fragrance.. I keep smelling my clothes and the ones that are kept along with them also get the fragrance. Really makes your clothes soft and cuddly! And lifts your mood too when you smell your clothes.
Viti C.

India
I recommend this product
02/01/2021
Great fabric conditioner!
I have been using this fabric conditioner after wash.This fabric conditioner helps to keep the fabric quality intact even after a number of washes. Very useful to me especially in winters.
Bhuv D.

India
I recommend this product
02/01/2021
Nice fragrance and worth buying
This is a biodegradable fabric softener infused with lavender essential oils and geranium.It keeps the fabric soft and leaves a lingering scent.